In-House Surgical Suite with the Latest in Technological Advances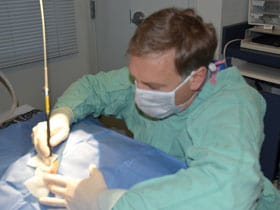 Knowing your pet is going in for surgery can be a stressful time. We have made it a priority to provide our patients with a surgical suite that is equipped with the latest technological advances and equipment, which brings our patients state-of-the-art medical care in a safe, nurturing environment.
Pre-Anesthetic Exam and Blood Work
Prior to any surgery, your pet will be examined by the doctor to ensure they are healthy enough for the procedure. A pre-anesthetic blood draw is required to further ensure the overall health of your pet as well as assist the veterinarian in customizing an anesthetic and pain management protocol that will make your pet as comfortable as possible before, during and after their procedure.
Laser Surgery
All of our patients benefit from laser surgery. Unlike the scalpel blade, the laser seals the nerve endings and smaller blood vessels as it cuts, greatly reducing blood loss. Our CO2 laser has virtually replaced the scalpel blade in our surgery suite. With the CO2 laser, we can offer our patients the many advantages over traditional surgery, including:
Less pain
Better precision
Less bleeding
Less swelling
Safer Anesthesia
All veterinary hospitals are not created equal (they can have very different standards), andthere are many different anesthetic agents available to veterinarians, the newer agents and the older agents. In general, the newer agents cost more but are much safer (have less side effects). The older agents are cheaper and less safe (have more side effects). At Bradley Hills Animal Hospital we use some of the safest, shortest acting anesthetic agents available in veterinary medicine. These agents, which include propofol and sevoflurane, are a significant improvement over older anesthetics, which can often leave animals groggy and disoriented for hours or days. Propofol and sevoflurane, used extensively in human medicine, are much quicker to induce and reverse the anesthetic plane. This considerably shortens the time your pet is under anesthesia and greatly lessens the time your pet takes to wake up and become alert. In addition, complications are significantly reduced, as the agents are eliminated more quickly and with less strain on your pet's system.
State-Of-The-Art Anesthetic Monitors
All patients having surgery will be placed on the most sophisticated monitors available in veterinary medicine, including:
Electrocardiography – All patients will be on a continuous EKG, ensuring their heart is functioning stably under anesthesia.
Pulse Oximetry – This monitor tells us the patient's blood oxygen level while under anesthesia. If this level drops at all, we are alerted immediately so we can make changes to correct the problem quickly.
Capnography – The capnography monitor is the standard in human medicine. This monitor tracks blood CO2 levels, which change more rapidly than oxygen levels, allowing us to quickly adjust the anesthesia level or improve ventilation before serious problems can develop. This ability to monitor subtle and rapid changes in patient plane of anesthesia has made a significant advance in veterinary medicine.
Ventilator (Respirator)
One of the single most important pieces of technology that makes anesthesia safe in our hospital is our ventilator. In clinics without a ventilator, the animal breathes on its own, which can lead to the blood oxygen level dropping to a dangerous level. Since our ventilator virtually eliminates this risk, the patient is much safer as a result.
Temperature Controlled Environment
A very important, yet overlooked, part of anesthesia is a temperature-controlled environment. This is important for all patients but can be critical for the smaller patients. Keeping the patient warm during the procedure and in recovery is important at two levels. It helps the patient wake up, recover faster and the patient is much more comfortable, unlike the open back gowns we get in the hospital.
At Bradley Hills we maintain our patient's body temperature in two ways: first the surgery table is heated; second our ICU cages where the patients recover are heat controlled. In these two ways we are able to maintain our patient's body temperature to optimize patient comfort and speed recovery from anesthesia.
Surgical Drop Off Form