Providing Animal Care to Bethesda's Smallest Pets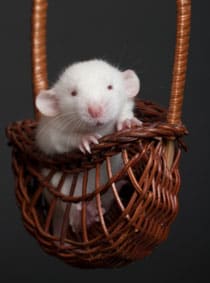 Dr. Weiss has over 20 years of experience treating small mammals and Bradley Hills Animal Hospital welcomes your small pet with compassion, care and respect. Whether you are a new pet owner, or a seasoned pro we look forward to providing all your small mammal care needs.
Gerbils, Hamsters, Mice and Rats are adorable creatures that require minimal care. Their daily diet consists of animal specific kibble or chow and fresh water. It is best to house them individually in secure cages and most do not require grooming as they are very self-sufficient in that area. They do best in a secured cage with quality bedding available at most pet stores, and one of the easy ways to keep your pocket pet healthy is to frequently change their bedding.
Guinea Pigs are perfect for someone who wants to shower a pet with love and affection. Taking time to get to know your guinea pig allows you to identify ways to make them feel loved and safe. Daily brushing with a soft baby brush not only assists with their grooming needs, but also provides desired attention. With a life span of 5-7 years, each guinea pig has their own personality, likes and dislikes. Guinea Pig pellets, available in most pet food aisles, make up the majority of their diet. Their food should not be stored for more than 3 months as important Vitamin C supplements start to break down after this time. You can supplement their diet by providing fresh greens and fruits that are high in Vitamin C. Ask your veterinarian for specific amounts. In addition guinea pigs require access to fresh, clean water throughout the day. They do best in a secured cage with quality bedding available at most pet stores. Frequent cleaning of their bedding is one of the most important elements to keeping them healthy.
Rabbits
With a longer lifespan than other small mammals (5-10 years), rabbits have become popular pets among families. While friendly pets, they do have a tendency to bite when frightened which can be discouraged with frequent and consistent handling. A diet consisting of fresh rabbit chow or kibble, hay and water is suggested. Rabbits can be caged either indoor or outdoor (depending on temperature) with bedding that is changed often.