Celebrating Your Pet's Golden Years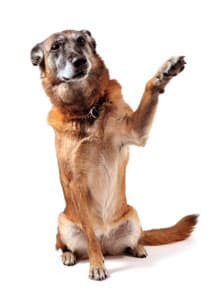 Your senior pet has been a loyal companion to you throughout their life, now it's your turn to be there for them as they enter their "golden years". There are several changes that need to be made regarding their healthcare during this life period. More frequent wellness exams, changes in their diet and subtle ways you can increase their comfort as they age can be discussed during your next veterinary appointment.
Health Exam Frequency
During your pet's puppy and kitten stage into adulthood annual wellness exams met their healthcare needs. As they enter their senior stage of life they will require more frequent exams. Increasing veterinary visits to every six months increases the chances of early identification of common old-age ailments that may require medical monitoring or dietary changes.
Conditions such as arthritis, kidney disease, heart disease, or cataracts can be identified utilizing procedures such as blood testing, X-rays and ultrasound. Early detection can lead to proper management of such conditions and extend the life of your loyal companion.
As your pet ages, they require changes in their diet. Whether they need a softer form of food due to dental concerns, or a different make-up of vitamins and supplements, your veterinarian can assist you in finding a formula that meets all their needs.
Making Your Senior Pet More Comfortable
While you would move heaven and earth to make your senior pet more comfortable, sometimes it's the simplest of actions that mean the most.
Give them sweet dreams at night with a soft, cushioned bed for sleeping. Placing it close to the ground will make easier access in and out. If you are able to provide a heat source that is an added bonus.
Maintaining their body temperature as they age becomes more and more difficult. A sweater or sweatshirt from your local pet store can assist them in staying warm. Providing old blankets for them to snuggle into around the house can keep them warm throughout the day.
Pet stairs helps them maintain independence when they are cuddling with you on the couch or going for a ride in the car.