Routine Wellness Care, the Core of Your Pet's Long and Healthy Life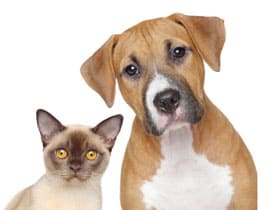 Most companion animals age much faster than humans, that is why routine preventative veterinary care is essential to their health and wellbeing. Many diseases, if caught early, can be treated or cured. As a pet owner, you are a key factor in your pet's health, forming a vital partnership between you and your veterinarian.
Wellness Exams
Dogs and cats younger than seven years old should have an annual wellness exam. If your pet is experiencing environmental or lifestyle changes, we recommend you bring them in for a wellness exam every six months. You can discuss what type of wellness program best meets your furry friend's needs with our doctor at your next visit.
For animals older than seven years of age, we recommend they be examined twice a year. It is especially important for seniors that annual blood-work be performed to look for any signs of metabolic diseases such as kidney or liver problems. Conditions such as these, which are common in older pets, can be treated more effectively if detected early.
While the individual needs of each patient are taken into consideration the foundation of each of our wellness exams includes the following:
A thorough physical exam.
Applicable vaccinations based on your pet's risk of disease exposure.
Recommended veterinary diagnostic tests based on your pet's breed, age, lifestyle, and overall health.
A dental exam.
Recommendations for flea, tick, and heartworm control.
An evaluation of your pet's diet and nutritional health.
Information on microchipping your pet. We suggest you read the Healthy Pet article 'Improve Your Chances of Finding Your Lost Pet' for more information on microchips.
Vaccinations
Vaccinations are an integral part of preventative wellness care. By maintaining a schedule of routine vaccinations we can eliminate the chance of your pet contracting common life-threatening diseases. While individual risk factors may vary, there are core vaccinations recommended for most canine and feline companions. The non-core vaccines we recommend are based on your pet's lifestyle and their risk for exposure to infections.
Core Vaccines for Dogs
Rabies vaccine (required by law)
Bordetella
DHLPP vaccine (For Distemper, Hepatitis, Leptospirosis, Parvovirus, Parainfluenza)
Lyme disease (Core in our geographical area)
Core Vaccines for Cats
Rabies vaccine (required by law)
FVRCP vaccine (Viral Rhinotracheitis, Calicivirus, Panleukopenia)
Non-core Vaccines
Influenza (highly recommended for dogs in our geographical area)
Feline Leukemia (recommended for outdoor cats or those with a high risk of exposure)