Quality Animal Health Care for All Pets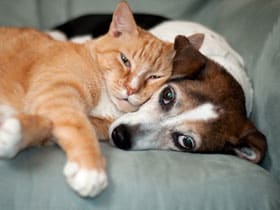 We know that your animal's health is one of your top concerns as a pet owner. A comprehensive pet wellness plan is the best way to ensure your pet remains healthy and strong. Our staff will work with you in developing this plan, making sure all components are current for your pet.
Annual Wellness Exam
Routine wellness exams allow our veterinarian to complete a nose-to-tail physical, identifying any concerns or possible medical conditions. Early detection allows you and your pet's doctor to develop a treatment plan that ensures your pet's health for years to come.
Vaccinating Your Pet
There are many life-threatening diseases and conditions that can be prevented with simple vaccinations and follow-up boosters. Bradley Hills Animal Hospital develops individualized vaccination schedules for each of their patients dependent on their age, lifestyle and living arrangement. We assist our patients in making sure their vaccinations are up-to-date with postcard and/or email reminders of due dates.
Parasite Prevention
The use of a year-round flea and tick preventative prevents such diseases as Lyme and Rocky Mountain Spotted Fever. A combination of a topical application and oral medication will protect your pet from adult fleas as well as the hatching of any eggs. Bradley Hills also recommends the use of a Heartworm and intestinal parasite preventative such as Heartguard for dogs and cats that go outdoors.
Pet Dental Care
Completing an at-home dental routine will help against tartar build-up and dental disease. Our veterinary technicians can review with you how to properly brush your pet's teeth as well as recommend an appropriate pet toothbrush and toothpaste.
Spaying or Neutering
There are many benefits to spaying (female) or neutering (male) your pet. In addition to preventing unwanted litters, it will reduce their chances of developing life threatening disease including some forms of cancer, as well as decrease many undesirable behaviors. Visit with your veterinarian about this surgical procedure at your next appointment if your pet is not already spayed or neutered.
Microchipping
There is nothing scarier than a missing family member. This quick and easy procedure of inserting a chip the size of a grain of rice between your pets shoulder blades, increases the chances of a happy reunion should they lose their collar or leash.