Making Animal Healthcare As Easy As Possible
Drop-off Appointments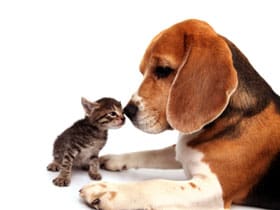 Occasionally your pet will need additional time and attention from Dr Weiss when they are not feeling well. When you call for an appointment for your pet if they are sick, we might need to schedule you for a "Drop-off appointment" where Dr Weiss can observe, examine and test your pet to determine what is causing their illness. Your pet will be with us for the day and Dr Weiss will examine your pet during non-appointment times. After the exam he will call you, informing you of any medical recommendations and then we will schedule a time for you to pick up your pet from the hospital.
Schedule an Appointment
Appointments can be scheduled by calling us during business hours at 301-365-5448. We understand that occasionally appointments need to be rescheduled and we appreciate 24 hours' notice for all cancellations. Please review our payment policy for a full list of options.
Bradley Hills Animal Hospital
7210 Bradley Blvd
Bethesda, MD 20817
Phone: 301-365-5448
Office Hours:
Monday - Thursday: 9:00am to 4:00pm
Friday: 9:00am to 2:30pm